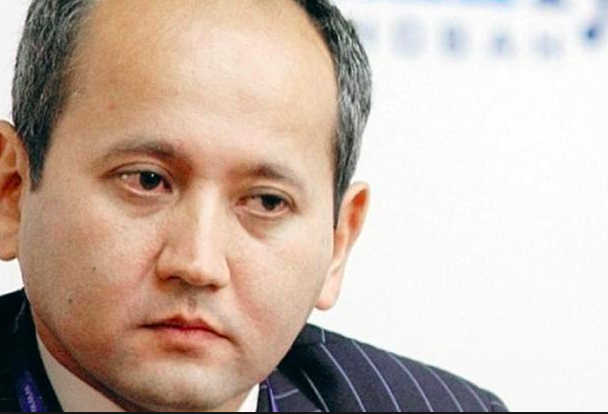 Mukhtar Ablyazov will not be extradited to Russia rules the French Council of State
Mukhtar Ablyazov, a Kazakh opposition figure, was released from prison late Friday evening after France's highest administrative authority blocked his extradition. Ablyazov, has been held in French custody since he was arrested on the Cote d'Azur in July of 2013. Ablyazov was seen smiling as he left the Fleury-Merogis prison in a Paris, Friday evening.

Kazakhstan, Russia and Ukraine have all accused the 53-year-old male of embezzling billions of dollars during his time as head of the Kazakh bank BTA. The bank has since filed complaints against him as well.
Ablyazov's top extradition lawyer, along with Nils Melzer, the United Nation's special rapporteur, have argued that he would not receive a fair trial if he was extradited to Russia.
The French appellate court is refusing to extradite the banker who supposedly turned dissident and is accused of embezzling billions. The French court has refused the extradition request from Russia, stating that the request from Moscow is politically motivated.
The court made its decision on Friday 9th December 2016. Just hours after the decision was handed down, Mukhtar Ablyazov walked out of the French prison to freedom. Newspaper photographers caught the moment on camera, overjoyed at his release he hugged his son, brother and lawyer.
The result surprised many, the legal saga had continued for a number of years, capturing the attention of the legal authorities in a number of jurisdictions. Muktar Ablyazov's top extradition lawyer asked France's Council of State to block the extradition. The fear was that if Ablyazov was extradited to Russia, the Russian government would then send him back to Kazakhstan.
The French Council of State, the top administration in France, refused on Friday to send Ablyazov to Russia. The council of state in its decision, held that Russian and Kazakh authorities have had a number of discussions and consultations about Ablyazov's case. Under the extradition treaty, requests for criminal suspects, can be rejected if they are believed to be politically motivated.
Ablyazov, a former energy minister, founded one of the opposition parties in Kazakhstan. He was charged by Kazakh authorities with stealing billions of tenge, the currency in Kazakhstan, from a bank that he worked for, called BTA.
Russia and Kazakhstan are close allies hence why Ablyazov's top extradition lawyer believes if he is extradited to Russia, they would then send him on to Kazakhstan. Russia has argued that their citizens were defrauded, just like the citizens of Kazakhstan, because of the collapse of the bank.
Peter Sahlas, Ablyazov's top extradition lawyer, told The Associated Press that they are thrilled with the decision of the French court. He went on to say that it is a massive step forward for France and Europe in terms of human rights protection. There has been not reaction so far from the Russian government or the government of Kazahkstan.
Ablyazov was due to be extradited in September of 2015. The court of Cassation, France's top appeals court, approved the extradition and signed the extradition decree last year. However, Ablyazov's top extradition placed an appeal to the Council of State. The Council of State is the highest administrative body in France.
Ablyazov did not release a statement to the press when he was released Friday evening. He did not speak about his ordeal, what he had experienced whilst in prison. He instead left the Fleury-Merogis prison and allowed his son and lawyer to speak on his behalf. Madiyar, his son, expressed how overjoyed they were with the release. Madiyar went on to say that it is the best Christmas/ New Year's present they could receive.
Ablyazov's top extradition lawyer has argued that Ablyazov was pursued due to his activities as an opposition leader in autocratic Kazakhstan. Ablyazov's and his lawyer fear that if he is extradited to Russia or the Ukraine, then he will not receive a fair trial. They fear once his "sentence" in Russia is complete they will then transfer him to Kazakhstan, and he will be tried and sentenced there also.
The banker, Ablyazov, fled Kazakhstan during the period when the BTA bank was nationalized. Ablyazov was arrested in 2013 in the South of France. He was arrested in 2013 on charges of embezzlement. Both the Russian and Ukrainian government have requested the extradition of Ablyazov. France however has no extradition agreement with Kazakhstan and thus are not obliged to return him on their request.

In a statement released by the council of State, it was that Ablyazov is known to be an opponent of the political regime in Kazakhstan. He has been recognized by the authorities in the United Kingdom as a political refugee.
The BTA bank has said that it is shocked by the decision of the French Council of State. They held not extraditing Ablyazov to Russia was unjust as he would not be answering for the criminal acts he committed and thus there would be no justice for the Russian individuals who were victims of his embezzlement scandal.
French lawyers however have noted that the decision defended the principles of justice that France believes in. They went on to say that if Ablyazov was extradited to Russia, there was a strong possibiliy the Russian authorities would pass him on to Kazakhstan. They believed that Russia was acting as a proxy for Kazakhstan because there is no extradition treaty between them and France. They believe that the request is purely political. They added that there was a genuine reason to believe Ablyazov would be subjected to torture if extradited. The European Court of Human Rights have ruled against extraditing individuals to Russia several times due to this same belief, that there would be a risk of torture or ill-treatment.