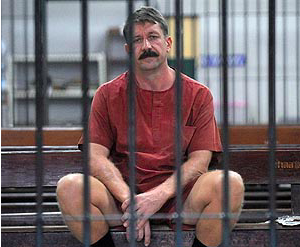 Under the Prisoner transfer convention, Russia is seeking the extradition of Viktor Bou
Top extradition lawyers who are representing the Russian citizen, Viktor Bout, have stated that they hope the president elect and his new White House administration, will satisfy a plea to extradite Viktor Bout to Russia, under an international convention. Viktor Bout, who is currently residing in a United States' prison, serving a 25- year sentence is also appealing for his conviction to be overturned.

In an interview with Russia's Izvestia daily, Aleksey Tarasov, Viktor Bout's top extradition lawyer, stated that he and the other lawyers working alongside him have started two legal procedures simultaneously.
The first legal procedure that has been started is a request to extradite Viktor Bout, to Russia. They have asked that Viktor Bout be allowed to serve the remainder of his sentence in a Russian prison. The request has been made under the 1983 Strasbourg Convention on Prisoner Transfer. The second legal procedure that has been started is another attempt at proving Viktor Bout is innocent in the United States Supreme Court and having his conviction overturned.The two legal procedures do not contradict each other; they are thus able to be launched simultaneously. The team of lawyers working on the case have stated, that it was Viktor Bout himself who decided to appeal the guilty verdict of the second United States circuit court. This appeal is to be mounted in the Supreme Court of the United States. They stated that the request which will be made under the 1983 convention will be initiated early in 2017. The legal papers which would begin proceedings have not been filed yet. The reason being that the team of top extradition lawyers working for Viktor Bout, believe they stand a greater chance of success if the legal procedures are started under the President elect and the new United States administration.
The legal team commented that the list of convicts who have been pardoned by President Obama in the week before Christmas did not contain the name of Viktor Bout. They went on to say that it also did not list the fellow Russian prisoner Konstantin Yaroshenko.
Konstantin Yaroshenko, is another Russian citizen that is currently serving time in a United States prison. Konstantin Yaroshenko was sentenced to 20 years in prison in 2011, he is alleged to have participated in a conspiracy to smuggle drugs into North America.
The extradition request for Viktor Bout is to be sent on behalf of the Russian nation. The extradition request papers have been prepared according to Viktor Bout's top extradition lawyer. This has yet to be confirmed by the Russian Justice Ministry. The Justice Ministry is usually the department which deals with sending and receiving extradition requests so would have been in charge of producing these documents. It has been suggested comment on the case will not be given until Donald Trump is in the White House.
Viktor Bout's spouse, Alla Bout, has stated that she, like the extradition team believes their interests will be better served by Donald Trump. She thinks that the chances of settling the extradition and Viktor Bout returning to Russia, either to serve out his sentence or as a free man, are higher under the new administration.
In a statement Alla Bout said that if the president elect's campaign statements are true to his term in power, and he intends to normalize relations between Russia and the United States, then they would prefer to deal with that new administration.
Viktor Bout is currently serving a sentence of 25-years and is residing in a top security prison within the United States and has been there since he was sentenced in 2012. His sentencing followed a lengthy and controversial process with many arguing it was political. Viktor Bout, a businessman who specialised in air cargo traffic, was arrested in 2008 whilst in Thailand. Viktor Bout was arrested after a sting operation by United States agents. It is alleged that Viktor Bout admitted, that it was theoretically possible for a foreign terrorist group to buy anti-aircraft weapons.
Viktor Bout was extradited to the United States in 2010. He was placed on trial and a year later, in 2011, he was convicted of conspiracy to kill citizens of the United States. The individuals, who are alleged to be the buyers of the weapons that Viktor Bout was allegedly selling, have been linked to Guerrillas. Guerrillas are the Revolutionary Armed Forces of Colombia (FARC). The group are ranked by the United States as a terrorist organization. Viktor Bout pleaded not guilty at his trial and has continued to claim he is innocent of all charges.
Russia has continuously argued that Viktor Bout's extradition and his subsequent sentence, were both a violation of international law. They have argued that they were based on political motives as opposed to legality and that they highlight the biased nature of the United States justice system.
In spring of 2016, the United Nations Security Council decided to exclude twenty-one individuals, the individuals listed included Viktor Bout, from the Liberia sanctions list. The sanctions list was originally used by the United States prosecution during Bout's trial to convince the Judge and Jury that Bout was a dangerous criminal on an international scale. Following the removal from the list, Bout's top extradition lawyers have asked the United States District Court for the Southern District of New York to review their Viktor Bout's case. The plea however, was rejected.
The Human rights envoy for the Russian Foreign Ministry has commented on the latest developments of Viktor Bout's case. He has stated that these developments are evidence, and that they prove the trial was politicised from the beginning. He went on to say that the justice department in the United States are extremely selective when Russian citizens are the individuals concerned. Popular In the Community